Odds and Split Ends
I feel a little disjointed this week, so I thought it would be appropriate to create a post reflecting as much. I've also been tagged by
RCS
and dared by
Dave
, two of my favorite bloggers; my responses to these requests will be integrated as well. The rest will be snippets of random thoughts and views laced with humor and sarcasm, heart and soul.
There you have it (if you hurry and don't look back, there's still time to get out).
~~~~~

Ed has decided to take upon himself the huge task of redoing our laundry room. I think "redoing" is a word guys like to use when they get an urge to employ as many power tools as they can in as short a time as possible. Yay for Ed. He's so clever, creative and capable.

There should be two days every week when people cannot post. This would afford people like me a chance to catch up on reading rounds. (Some already practice this … and I'm eternally grateful) I hate showing up to someone's blog having missed out on several great posts. Sure I can scroll back, but that leaves the S's and W's or C's and G's on the back burner for way too long, depending which direction I'm going in.

I gave up being messy and disorganized for about two full hours yesterday, then I came to my senses.

I don't like toilet paper hanging from the bottom. It seems more immediate to have it hanging from the top. I grew up with toilet paper hanging from the bottom. Perhaps this is just a fine example of the rebel in me.

I have new neighbors. Everyone likes to inspect their new neighbors when they first move in, right? (please say it isn't just me). What I'm about to tell you is a bit scary so if you're squeamish, move on. On the second sighting of these folks, they put a full sized red lacquered naked female mannequin out on their back deck and proceeded to BBQ and eat dinner with it at the table. No lie. I already love these people.

I had to spell check three words in that last sentence. I'm actually embarrassed over this yet I'm all alone in my room. What does that say about me?

Our pond is so dry that we're waiting for the fish to come knocking at the back door for a drink of water. This could explain Ed's sudden need to "redo" the laundry room ~ hard to get a boat out into the pond and go fishing when it's tied at the dock and sitting in dry muck. We need rain, dammit.

People shouldn't be arrested for shooting others until we first examine the reason. Like if someone starts up their lawn mower at 6 a.m. on a Sunday, we should be allowed to shoot them … at least in the shoulder or something.

I hate it when I do things that a completely demented person would do like putting away groceries and two hours later finding a can of tuna (just bought - unopened) in the refrigerator. This means I have to go through all my cupboards to see if anything requiring refrigeration was also misplaced. Cripes.
I often wonder if someone like Hillary Clinton ever put on a pair of pantyhose with a mid-thigh tear in them figuring nobody would notice it beneath her dress. I like doing this because I feel like I'm getting away with something … pulling a fast one. [laughing at myself now … because it's true]
I have accidentally gotten into a shower wearing my eyeglasses. You don't really need eyeglasses in the shower but apparently I need to do this at least once a month to keep reminding myself.
If you haven't already purchased
Lightening Bug's Butt's
brilliant book, you must. It will keep you entertained for hours and hours. There's a "purchase here" link on his blog. The same could be said for
Mark's
book … a delightful collection of short Christmas stories that he "invented" for his family. I'm so proud to have both these books on my new bookshelves.
I don't consider myself overly patriotic (patriotic yes, overly - no) but I get teary eyed and swell with pride singing the National Anthem at ballgames or watching the Marine Corps Band marching in a parade.
Regardless of the fact that I am fully aware of what goes into a hotdog, I love the little bastards and will treat myself to one every now and again.
I think people would be more apt to cry in front of others if there wasn't that ugly "cry face" that accompanied it. I don't mind the cry-face of others, but man do I hate it on me. Especially if there's nose slobber and no tissues close at hand.
I knew a man from England who referred to himself as a bakery engineer. He baked rolls and bread. I think it's neat that in England, many many job titles have the word 'engineer' in them. It's so … something.
This was an actual diary entry of mine from September 5, 1976. "Worked 3 – 10 p.m. Eddie and Alan and Bonnie came down & we went to Seaside – good time – came home and went to sleep."
Twenty-nine years later, I can tell you that Eddie would later become my husband (ex now but still friends), Alan is dead (motorcycle accident) and I have no clue who Bonnie was. Seaside refers to Seaside Heights, New Jersey, and I wish I had been more verbose at the time so I could be reminded why we had such a good time.
Somewhere throughout the years, any relationship I ever had with brevity went out the window.

Tagged: Five songs that I'm particularly fond of are: "Stardust" by Hoagy Carmichael, "Embraceable You" music and lyrics by George and Ira Gershwin, "Magic Carpet Ride" by Steppenwolf, "Texas Flood" by Stevie Ray Vaughn, and "Heaven" by Los Lonely Boys. I cannot believe I've just had to list only five songs I'm especially moved by. That, for me, is like asking "which of your major organs do you like the best." In other words, what I pretty much did here was pull these five from my 'most frequently listened to' selection. I won't tag anyone on this because I think everyone's done it already and I don't want to get beaten up.

Dared: Dave recently posted an old publicity photo of his (it rocks, by the way). I made the dreadful mistake of mentioning that he would die laughing to see my old headshot from the singing/acting days of the good old 70s. Don't blame me, blame the Ghirmack perms that were all the rage. He dared me to post it. Be warned.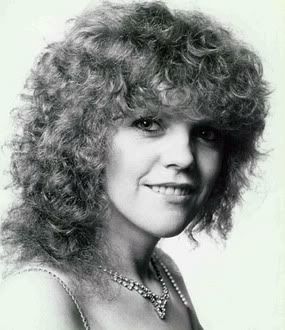 Speaking of poodles … of all the doggie types, these are my least favorite. I'm so sorry for those of you who own them. I'm sure they're loving and adorable companions and to you, their high pitched yipping is a welcome sound. I find them aurally offensive and jeepers it feels great to get that out in the open for once in my 50 year life. I wouldn't hurt a poodle (while I'm awake, anyways) and I've been known to pet them on the head gently from time to time, but they really must have been in the back of the line the day canine voices were handed out.

May everyone have a lovely week. Remember to keep sacred that crowded little apartment or that in-need-of-repair house – at least you have a roof over your head; much more than many thousands have on this day.

Random thoughts are fun … they allow me to be messy as hell right out in front of everyone and not even give a hoot.