Trick or Treat ... Screw the Sweets ... Bring Me Little Kids To Eat
Halloween is one of my favorite days of the year! I think I can still recall most of the little-kid costumes I wore back in the sixties as I trotted from doorbell to doorbell around the neighborhood ~ my sack of goodies in tow. To me, this bag was … "the precioussss."

In honor of this special day of remembrance for all hallows, I present a brief story in rhyming format, to describe my own special way of celebrating.

Come to my house little witches and warlocks
Bring with you bags to fill
I shall greet you with passion and ask you inside
But it won't be just run of the mill



I will show you my friends who are anxiously waiting
To treat you to goodies and cider
Don't worry 'bout grandma who's dead in the closet
We've practiced at ways we can hide her

We'll dance down the hall and we'll dish out the sweets
We shall taunt you and scare you to tears
But if you're real fast you can turn on your heels
And alleviate most of your fears

If you don't play along and if you don't quake
I will take a more serious measure
You see little one at the end of the day
It's beheadin' that I truly treasure!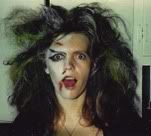 When all's said and done and the hour is nigh
And I've let you back out through the door
I will start to transform to the normal old Hag
The one who's a simple old bore


Happy Halloween all!

Weary Hag